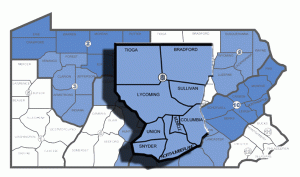 "I am impressed with District 8 for three reasons

: the professionalism of our colleagues, the product that is produced, and the leadership that is already evident at all events. I am proud to be part of this district!"

-Ted McCaffery - Millville SD
District 8 of the Pennsylvania Music Educators Association serves music educators throughout the counties of Bradford, Snyder, Lycoming, Columbia, Union, Montour, Northumberland, Sullivan and Tioga.
With nearly 200 active members from our nine county area, District 8 is proud to serve 48 school districts by providing quality musical experiences for our students, cutting-edge professional development for our teachers and aggressive advocacy for music education throughout Central Pennsylvania.
The mission of PMEA is to advance comprehensive and innovative music education for all teachers and students through quality teaching, rigorous learning, and meaningful music engagement.
All students should have the opportunity to participate in a high quality, standards-based music education program that is taught and assessed by exemplary music educators.
Music is a core human experience involving diverse types of learning throughout a life-time and reflects the culture and ideals of each community.
/ PRESERVATION OF HISTORY
Quality music education is dynamic, innovative, and adaptable to current social and cultural trends and supports an appreciation and preservation of history.
Quality music education cultivates 21st century skills and ideals including:
- Creativity - Critical Thinking
- Communication - Collaboration
PMEA / DISTRICT 8 OBJECTIVES
District 8 is committed to increasing effective advocacy for Music Education across Central Pennsylvania. In alignment with the PMEAs Strategic Plan, District 8 focuses on initiatives that promote music education for all students.
PMEA and District 8 are committed to serving our profession through offering meaningful and cutting edge professional development for our member educators. ​In addition we quality and sequential music education in schools and communities.
/ ORGANIZATIONAL VITALITY
PMEA and District 8 believes in cultivating and training the next generation of leaders in music education and promoting the mission of our organization in schools and communities across the commonwealth and District 8.
PMEA and District 8 are devoted to providing quality and meaningful musical opportunities for the students of our district. In addition, we strive to create a network of students across the Commonwealth through musical engagement.
​